Shade Sail Technical questions
Pre-Made DIY sails and Custom made. Is there a difference?
Yes.. there is a
BIG
difference. Pre-Made Sails consist of generic sizes, shapes and colors. So they can never be a perfect fit for your particular application and so fail to meet reasonable customer expectations.
SIZES:
They may be too small giving inadequate shade, or too large meaning they can never be tensioned properly. Loose and poorly fitting sails flap in the wind, causing a decreased life span to your sail and potential damage to fittings and property.
SHAPES:
Generic shapes also mean the best fixing points for your sail cannot be utilised. This can cause damage to your property if the sail is not fixed to a secure point. At Shade West we will ensure that your sail is fixed to an adequately secure point to avoid damage and noise. Often we will brace part of an existing structure to ensure there is no chance anything will pull out or be damaged. And our columns and foundations are always sized accordingly to suit our custom made sails.
COLOURS:
We use a variety of shade cloths from a range of quality suppliers. The range of colors is almost unlimited and the choice is up to you to pick the color that best suits your needs or décor. Talk to us and we are more than happy to provide you with physical samples or even provide 3D drawings to compare against your setting.
How are the Corners of Shade Sails Made?
The entire tension of a shade sail is concentrated in the corners so it is essential that this is this strongest part of the sail. We use cast stainless steel corner D's with double hemmed perimeter pockets with heavily reinforced corners and PTFE threads used for all sewing. This makes sure that our corners maintain their integrity and your sail retains its strength and durability.
Reinforcement being sewn into corner & stainless D shackle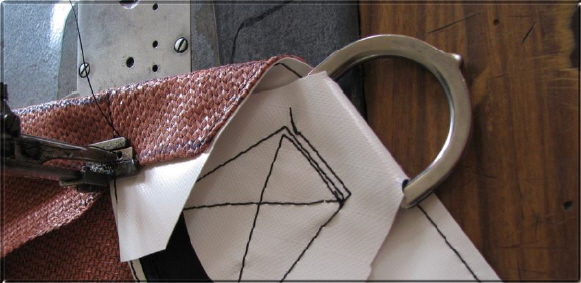 Completed Sail Corner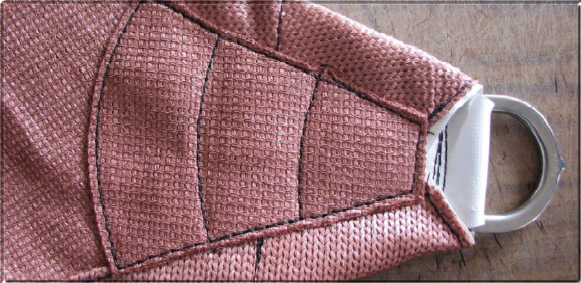 How are Shade Sails Tensioned?
We use marine grade 316 stainless steel fittings and cables that uniformly tension the entire perimeter of your sail ensuring perfect tension and a clean finish.

A shade sail is under a surprising amount of tension and any fittings and foundations need to be made to suit!
.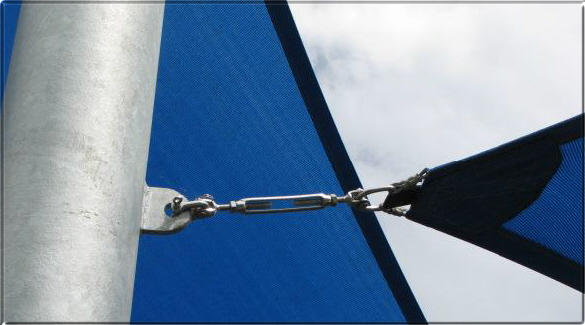 Size of Holes, how are they determined?
There a many variables to this. Factors include the size of your sail, soil conditions, height and pitch of the sail and wind conditions for your area. In almost all cases people are surprised by the required size of the foundations and amount of concrete. Digging by hand can be time consuming and tedious but we have ways of accelerating the process, while avoiding any damage to underground services in the area.
Fixing points, is it ok to fix a sail into brickwork or my roof?
This depends on a few things and it can be risky to simply attach a sail into a roof or brick wall without the correct equipment. At best the fixing point can vibrate and cause an annoying sound in the wind, worst case it can fail and pull it out completely, taking some of your roof or wall with it. We use specialized fittings for working with brickwork and often we will brace and reinforce a roof structure to ensure it is 100% secure, does not vibrate and can handle the increased loading of the wind and sail.
How long does it take to put up shade sails?
Depends on size. For a normal residential type sail we can design and install your sail within a week.
Specialised tripod fitting to raise sail.
(Extra bracing to secure tripod has been placed into the roof structure)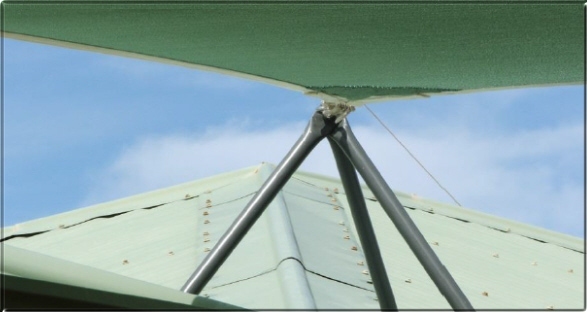 Shade sails and UV stability
In the early days, Shade fabric, as it was known, suffered from UV (ultra violet) degradation over time. To help prevent this, UV inhibitors are now added during the manufacture of modern shade cloths. The Shade sail concept was initially based upon a ships sail, both in creating shade from the harsh sun and attachment to poles (Mast) Shade sails use a flexible membrane tensioned between several anchor points.